Make sure to check out our new material at http://popartsplace.com/now
LAW & ORDER GIFT SET (3PK)
LAW & ORDER (3 PK)
TV SHOW
Law & Order : The Unofficial Companion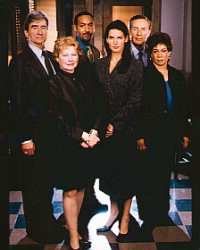 Law & Order :
Special Victims Unit
Law & Order -
The Producer's Collection
Webposted: October 19, 2002
by: Kay Kellam
What I Say:
Law & Order, Law & Order: Criminal Intent, and Law & Order: Special Victims Unit are lock stock and barrel good shows. The pacing is consistently good -- you don't half an episode wondering when it is going to end, or why it feels like it just ended when the clock says the show has another 20 minutes to go.
Law & Order has mastered the art of easing between casts and maintaining interesting stories -- sometimes pulling tales from the headlines, and other times making you grateful you've never read that headline!
What They Say:
With its renewal through May 2005, "Law & Order" is set to become the longest-running police series and second longest-running drama series in the history of television.
Filmed entirely on location in New York City, this realistic program looks at crime and justice from a dual perspective. In the first half-hour, Detectives Lennie Briscoe (Jerry Orbach) and Edward Green (Jesse L. Martin) investigate crimes and apprehend suspects under the supervision of their precinct lieutenant, Anita Van Buren (S. Epatha Merkerson). In the second half-hour, the focus shifts to the criminal courts. Executive Assistant District Attorney Jack McCoy (Sam Waterston) and Assistant District Attorney Serena Southerlyn (Elisabeth Rohm) work within a complicated justice system to prosecute the accused. Following the tragic events of September 11, 2001 in New York City, a new district Attorney, Arthur Branch (Fred Thompson), has been elected to serve as the guiding force in the D.A.'s office, offering a strict interpretation of the Constitution.
Some cases may be simple, but most are multi-faceted. The investigations are challenging, prosecutions are complicated, and decisions about legal procedures and plea-bargaining are vexing. In the arduous and complex process of determining guilt and innocence, lives often hang in the balance.
This legal crime drama is unique among the other franchise programs in that it offers an additional dimension by exposing major crimes from the criminal's perspective.
Vincent D'Onofrio ("Men in Black") stars as Det. Robert Goren, an exceptionally bright homicide investigator with well-honed instincts that match up favorably with his criminal quarry. Likewise, his partner, Det. Alexandra Eames (Kathryn Erbe, "Oz"), brings an independence and stylish edge to her work that meshes well in tandem with Goren.
Their commanding officer, Capt. James Deakins (Jamey Sheridan, "Shannon's Deal"), is a competent but ambitious political animal who knows how to survive and thrive behind the scenes. All of them often butt heads with the no-nonsense District Attorney Ron Carver (Courtney B. Vance, "The Tuskegee Airmen"), a stickler for the crucial legal details.
Law & Order: Special Victims Unit
Although "Law & Order: Special Victims Unit" carries the brand name "Law & Order," the newer program has established a strong unique identity and has proven itself as a hit in its own right. Last season (2001-02), the series broke into the Top 10 and garnered an Emmy nomination for guest-star Martha Plimpton.
The drama -- now in its fourth season -- follows Det. Elliot Stabler (Christopher Meloni, "Runaway Bride," "Oz"), a seasoned veteran of the unit who has seen it all, and his partner, Olivia Benson (Mariska Hargitay, NBC's "ER"), whose difficult past is the reason she joined the unit.
Overseeing the team is Capt. Donald Cragen (Dann Florek, reprising the role he played on the first three seasons of "Law & Order"). Cragen's tough but supportive approach to the team's complex cases guides the squad through the challenges they face every day. Also featured is Det. John Munch (Richard Belzer, "Homicide: Life on the Street"), a transfer from Baltimore's homicide unit, who brings his acerbic wit, conspiracy theories and street-honed investigative skills. Munch is partnered with Det. Odafin "Fin" Tutuola (Ice-T, "Players," "New Jack City"), whose unique sense of humor and investigative experience make him a formidable match for Munch.
Assistant District Attorney Alexandra Cabot (Stephanie March, Broadway's "Death of a Salesman") adds a legal component to the series through her efforts to bring closure to the intense investigations. Also aiding the detectives is forensic psychiatrist George Huang (B.D. Wong, "Oz"), whose insight into the minds of the accused often provides significant clues that lead to the resolution of a case.
(C) Kay Kellam, 2001 for PopArtsPlace.com
Prior to having her first novel, A Life to Di For, published author Kay Kellam enjoyed a variety of jobs that helped to shape her outlook on the world, and her profession. more...